Make money with your automobile (Top CarSharing Platforms in the Market)
Top 8 carsharing apps
Sixt
Google Play rating: 4.3
App Store rating: 4.9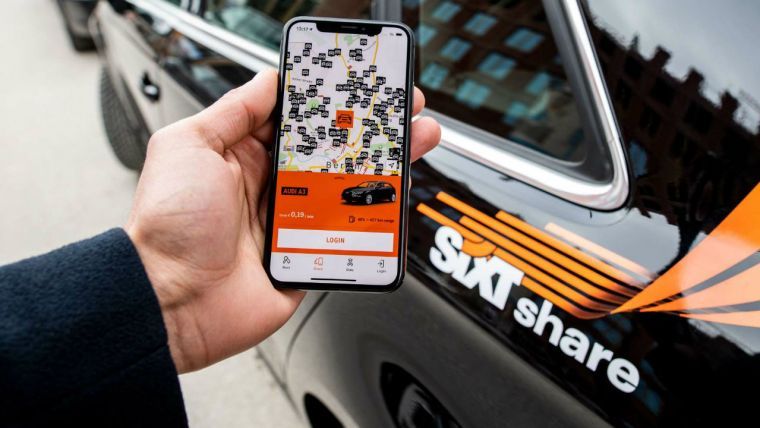 Sixt is Germany's leading mobility provider, with about 2,000 stations in more than 100 countries. The company operates primarily in two segments – vehicle rentals and car leasing – but also offers a number of other transportation services such as carsharing and ride-hailing. This product range is supported by innovative internet-based and mobile services. The company's business model is B2B and B2C.
The majority of the company is still owned by the Sixt family, which manages the company. Sixt fleet exceeds 4,500 cars. In 2018, Sixt's total revenue reached 2.9 billion euros.
Market: Sixt is considered the largest car rental company in Germany. In 2011, Sixt began operating in the USA. Sixt franchises also operate in Eastern Europe. Sixt serves business and corporate clients, as well as private individuals.
Sixt is Germany's leading mobility provider, with about 2,000 stations in more than 100 countries.
Features & winning points: Sixt's mobile app comprises SIXT rent, SIXT share, and SIXT ride. Thanks to the large Sixt fleet (trucks, luxury sedans, sports cars, SUVs, etc.) customers can always find the right option for their needs. Sixt share offers flexible rentals from one minute up to 27 days. The Sixt app allows customers to manage multiple profiles with just one login and provides detailed information about cars and reservations.
Car2go
Google Play rating: 4.1
App Store rating: 4.8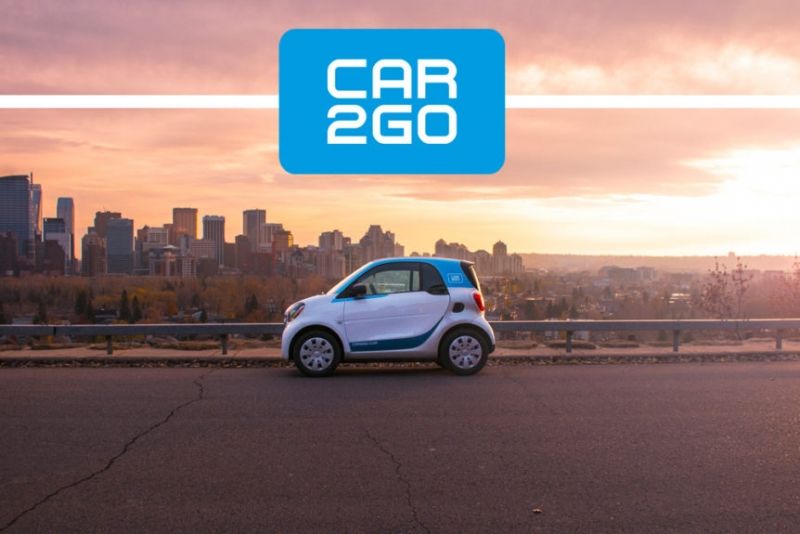 Car2go, another German car rental company, is owned by the automotive giant Daimler AG. Car2go provides free-floating carsharing in Europe, North America, and China. Car2go is also one of the largest providers of electric vehicle rentals. For instance, three European cities – Stockholm, Madrid, and Stuttgart – have all-electric fleets, as they have enough recharging stations. Car2go charges users per minute, with discounted fixed rates for hourly and daily use.
In March 2019, car2Go merged with DriveNow, resulting in a new free-floating carsharing company named Share Now. The latter is one of five mobility services under a joint venture of the BMW Group and Daimler AG.
Market: The company operates in 26 locations in North America, Europe, and Asia. In February 2018, car2go reached the three million customer mark worldwide, with a fleet of approximately 14,000 vehicles.
Car2go provides free-floating carsharing in Europe, North America, and China.
Features & winning points: Car2go offers keyless vehicle access via a smartphone app. When reserving a car online, customers can see the car's fuel gauge (for gasoline-powered cars) or the battery charge (for electric cars). This helps customers find the right car for the trip. Car2go doesn't charge any membership fee and offers a fully automated registration process. The built-in Home Area map shows where to park for free, either in specially designated parking spots or in standard parking areas.
DriveNow
Google Play rating: 3.9
App Store rating: 4.4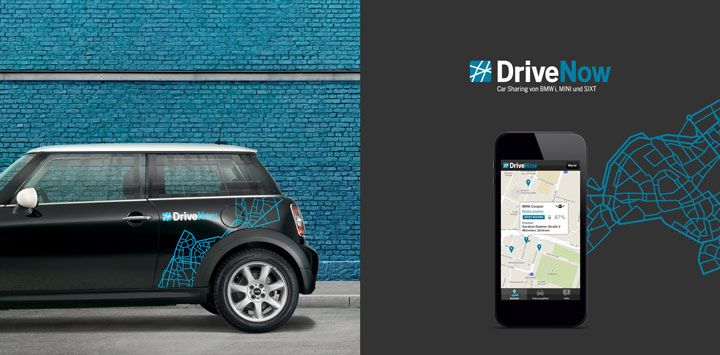 DriveNow is a BMW carsharing program operating in Europe. It's known as ReachNow in North America. DriveNow rents out BMW and Mini vehicles based on the B2C free-floating principle. Vehicles can be rented and returned to any location within a defined area of operation.
Market: More than 1 million customers reserve vehicles using the DriveNow app. DriveNow operates a fleet of more than 6,000 vehicles in 13 European cities. The fleet in Copenhagen consists only of electric BMWs.
Features & winning points: The DriveNow app allows users to unlock a car with a swipe and choose Touch ID/Face ID (iOS) or fingerprint ID (Android) so they don't need to enter their PIN each time they use the DriveNow service.
The DriveNow app can also connect with the navigation system in DriveNow cars. Thanks to this, users don't need to enter their destination address manually.
Another DriveNow app feature called Car Radar automatically searches for a nearby car.
Zipcar
Google Play rating: 4.2
App Store rating: 4.6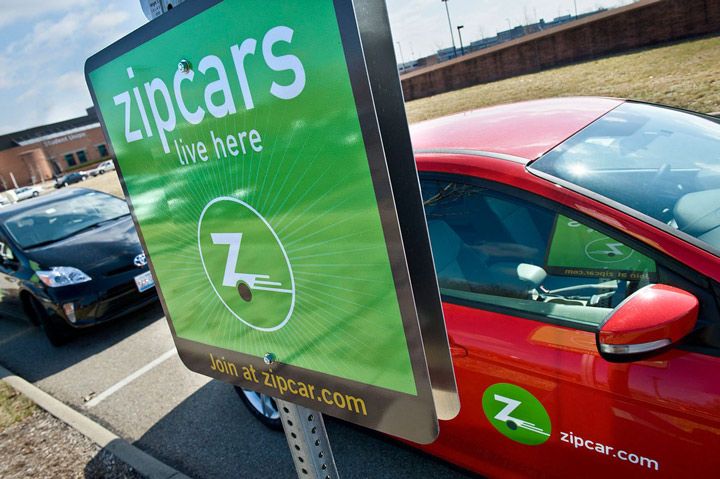 Zipcar is the best known station-based carsharing service in North America. Company brings in $278.9 million in estimated revenue annually. With its wide variety of self-service vehicles available by the hour or day, Zipcar provides on-demand access to more than 12,000 vehicles in metropolitan areas and on college campuses. Zipcar's rental fleet includes Audis, BMWs, Mini Coopers, pickup trucks, and Prius hybrids. According to the company, a Zipcar is reserved somewhere around the world every six seconds.
Market: Besides the US, Zipcar is present in Canada, several European countries and Taiwan. Altogether, Zipcar operates in over 500 cities and on over 600 college campuses and offers both round trips and free-floating service.
Features & winning points: The Zipcar mobile app makes finding and reserving Zipcars easy. A user can honk the horn to locate a reserved car and unlock the doors through the smartphone.
By signing up for updates and reminders, Zipcar members can get all the info they need about their reservations and can extend a trip by up to 30 minutes on the go.
Carsharing app development services
Are you planning to start your own carsharing business? We will develop a viable and user friendly application for you.
Getaround
Google Play rating: 4.1
App Store rating: 4.9
Getaround is a peer-to-peer carsharing marketplace in San Francisco that allows private car owners to offer on-demand car rentals to renters. For car owners, it's a way to make passive income when they aren't using their vehicles. According to Getaround, drivers typically make $300 to $500 per month renting out their cars. In turn, renters get easy and affordable access to a wide selection of newer model vehicles with less than 150,000 miles. Once an owner and their car is approved for sharing, Getaround installs its hardware in the car, which allows it to be unlocked with the app.
Getaround has revenue in the tens of millions of dollars and continues to grow. Some of the company's other investors include Menlo Ventures, Braemar Energy Ventures, Cox Automotive, and actor Ashton Kutcher.
Market: Getaround currently operates in thirteen metro areas, including Boston, Chicago, Portland, Seattle, Los Angeles, and Washington, D.C.
Some of the company's other investors include Menlo Ventures, Braemar Energy Ventures, Cox Automotive, and actor Ashton Kutcher.
Features & winning points: When users apply to join Getaround via the app, the company verifies their driver's license and credit card. After getting verified, users can reserve cars. Reservations last from 15 minutes to seven days and start as low as $5 per hour with no membership fees. Customers use the app to unlock the car, and trips start and end at the same location.
Owners receive 60% of the total rental revenue – the rest goes to Getaround. It's easy to make $500 to $1000 per month with this service, meaning the potential for upwards of $10,000 per year.
Turo
Google Play rating: 4.4
App Store rating: 4.8
Turo is a peer-to-peer carsharing company. Previously known as RelayRides, the company underwent a complete rebranding in 2015, followed by a name change and shift to a long-term rental and travel service. With this app, you can rent cars from people. Turo allows private car owners to rent out their vehicles online and via the Turo app, and travelers can choose cars suited exactly to their needs as opposed to what's available on the rental lot. Turo claims more than 200,000 vehicles are listed on its service and more than 5 million users are registered on the platform.
In 2015, Forbes included Turo among the 14 hottest on-demand startups, with a valuation of $311 million. Turo's estimated annual revenue is $10 million.
Turo takes 10 to 35 percent of rental revenue, which is a smaller amount compared to the competition.
Market: As of today, Turo offers its service in 56 countries, including Canada, the UK and Germany.
Features & winning points: Turo offers a simple user experience for car owners. There's no hardware installation required, though the company did introduce Turo Go technology in one of their latest updates. This program gives renters and owners the ability to lock and unlock a vehicle via the Turo app, along with access to other special features such as tracking the car's fuel level and odometer.
Turo takes 10 to 35 percent of rental revenue, which is a smaller amount compared to the competition.
The Turo app prompts renters to document the car's condition thoroughly at the beginning and end of each Turo Go trip. This provides protection for the owner in case something goes amiss during the drive.
Maven
Google Play rating: 3.7
App Store rating: 4.3
Maven is a Detroit-based on-demand mobility sharing service launched by General Motors. It is one of the best car sharing apps. Initially, Maven was a station-based program; however, in 2018, they announced their expansion to peer-to-peer carsharing, enabling private car owners and eligible lessees to earn money by renting out their personal GM-branded vehicles. By mid-2019, Maven is planning to add vehicles of other makes to the platform.
Market: In just three years, Maven has attracted over 200,000 members in 24 cities in the US, Canada, and Australia. Maven P2P service is available only in Detroit, Ann Arbor, and Chicago.
Under its Maven Gig program, Maven partners with ridesharing companies such as Uber and Lyft by providing their drivers with vehicles from GM's extensive fleet, with insurance and unlimited miles included. Maven has also been preparing to open up its platform to micro-fleet entrepreneurs and add more services to expand its presence in international markets.
Maven is a Detroit-based on-demand mobility sharing service launched by General Motors.
Features & winning points: Maven offers free lifetime membership and low hourly and daily rates. Cars are parked conveniently around the cities in which Maven operates and are available for round trips 24/7.
Users can reserve and unlock cars with an app, which also enables remote functions such as starting, heating, and cooling. Apart from this, Maven cars offer 4G LTE Wi-Fi connectivity and Apple CarPlay compatibility. Ridesharing and delivery drivers can enjoy flexible leases/rentals with the Maven Gig program, and Maven provides regular maintenance and insurance coverage.
Urbi
Google Play rating: 4.3
App Store rating: 4.0
Urbi is neither a station-based carsharing platform nor a free-floating service. Rather, it's a convenient solution for long-term users of shared mobility. Urbi combines existing carsharing services in one app. Created by two computer experts primarily for their own use, Urbi is an app designed to resolve mobility sharing complications. It provides an overview of all carsharing operators in the area and detects the nearest available means of transport and calculates the best route.
Urbi doesn't store users' login data on its servers.
Market: Urbi works across a range of carsharing services (car2go, DriveNow, Emio, Multicity, SharenGo, Sixt) in the majority of European countries and the United States.
Features & winning points: The Urbi app contains several handy features, including a fare calculator and a "radar" feature. The latter enables notifications about vehicles available nearby. The fare calculator shows the best price and best time options for a requested trip. Urbi provides locations of parking and gas stations as well as an offline map with the nearest Wi-Fi hotspots. Another interesting feature allows users to refresh the data by shaking the phone. Urbi doesn't store users' login data on its servers.
Summary
As you can see, the carsharing market is populated by players with different carsharing models and modes of operation. Startups and large companies backed by automotive manufacturers offer their services in both local and global markets. Even though station-based programs have a lot of members, free-floating companies appear to be more viable and sustainable in light of modern transportation trends. However, it's the peer-to-peer system that corresponds best to the concept of carsharing and doesn't require a dedicated fleet.
It's also important to mention that vehicle sharing couldn't have gotten this far without integrating the latest technologies. Features offered by carsharing apps make the whole car rental process easier and faster. If you're interested in custom car rental app development, be sure to contact us: we build apps for micro mobility and car rentals.